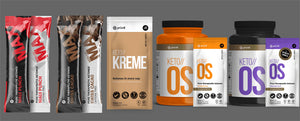 KETO OS
KETO//OS® (Ketone Operating System) is a revolutionary drink mix based on a proprietary ketone energy technology. It delivers advanced macro nutritionals and promotes optimized cellular regeneration, energy and longevity.
ORDER
about Amy's Health Choices
At Amy's Health Choices we focus on preventive health choices and natural alternative remedies. I have spent years researching natural products for use at our own ranch and home. I am here to listen and help you through challenges you may be facing.
Today's horse is a professional athlete expected to perform at a high level. Be it barrel racing, roping, cutting, showing or trail riding. Both horse and rider need to be in top health to perform. I have a desire to help the horse and rider remain as close to nature as possible.
Thank you for visiting our store.
Amy